Measures of Success 2019
We're excited to report another great year here at Adams County Animal Shelter/Adoption Center!
In 2019, we took in 6,488 animals, and served another 2,494 animals during our public, low-cost, vaccination clinic, which means we served 8,982 animals in our community!
Below is a list of additional successes in 2019: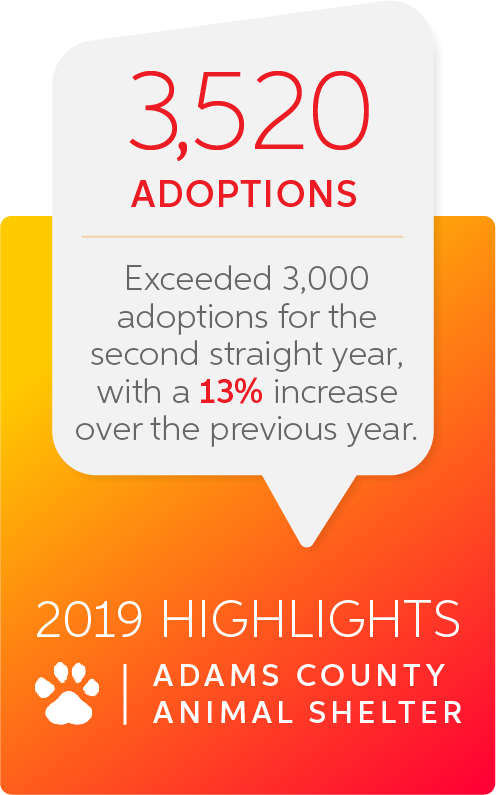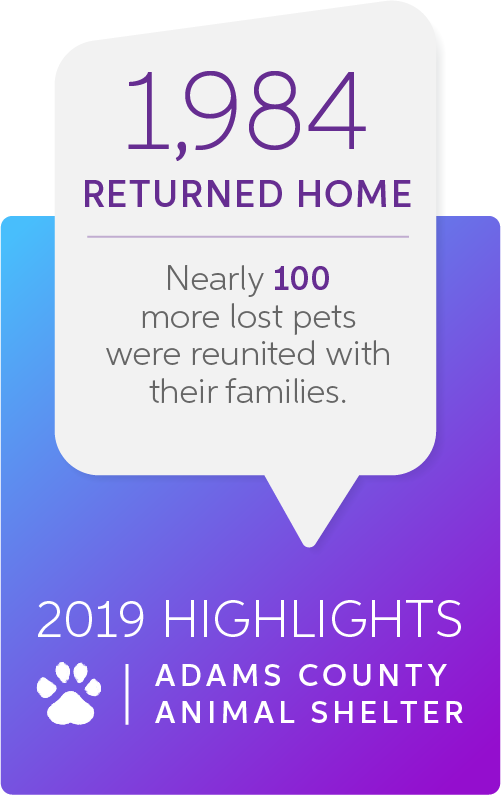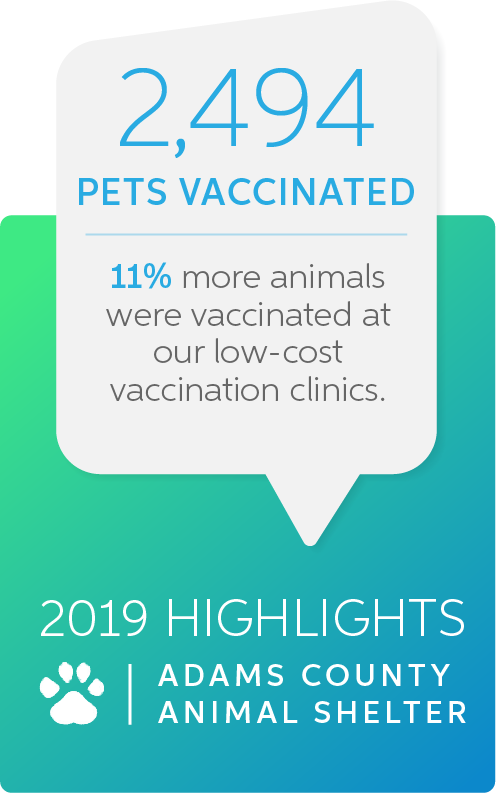 More than 3,100 pets received a microchip in 2019, increasing their chances of returning home if they're ever lost. 
Our save rate went from 89.2% to 89.9% last year.
Our average monthly unique site views increased by 62%, and we now have more than 10,000 Facebook followers.
In 2019, volunteers gave 25,349 hours of service – 6,000 more than in 2018. This is an increase for the fifth year in a row, highlighting the dedication of our amazing volunteers who help us provide quality care for animals and excellent service to our community.

More Data and Statistics
Adams County Animal Shelter/Adoption Center is an open-admissions shelter and follows the socially conscious sheltering philosophy principles. This means we take in animals regardless of age, breed, health, and/or temperament, and place all healthy and behaviorally-sound animals. We do not euthanize for time or space, and there is no set time limit for how long a pet can remain in our care while awaiting its forever home.
We proudly report data on a monthly basis to Shelter Animals Count, a national database of sheltered dog and cat statistics by county to help provide facts and data-driven solutions to save animal lives.
Adams County Animal Shelter/Adoption Center partners with more than 40 rescue organizations, and numerous animal shelters along the Front Range to place animals with a variety of differing medical and behavior support needs. Together, we are making a difference.