Measures of Success 2020
In 2020, the COVID-19 pandemic abruptly created many challenges for animal shelters across the country, and we at Adams County Animal Shelter/Adoption Center, were certainly no exception. Despite these challenges, with the safety of our staff, volunteers, and community in mind, we worked quickly to provide modified operations to provide safe, efficient services for people, while continuing to provide compassionate, quality care for our shelter animals. These contactless services include virtual adoptions, virtual training for volunteers, fosters and staff, and contactless vaccination clinics.
At the end of September, we also moved to a new location at Riverdale Regional Park and rebranded from Adams County Animal Shelter/Adoption Center to Riverdale Animal Shelter. This change included a new logo and mission statement to go along with a modernized facility with an expanded clinic, ample kennel spaces for cats and dogs, additional housing for small mammals and exotics, and fun trails for volunteers to safely walk the dogs in our care.
To learn more about the new Riverdale Animal Shelter click here.
Notable Accomplishments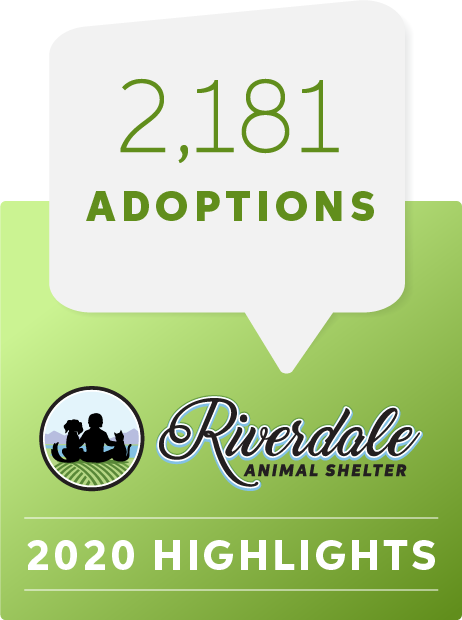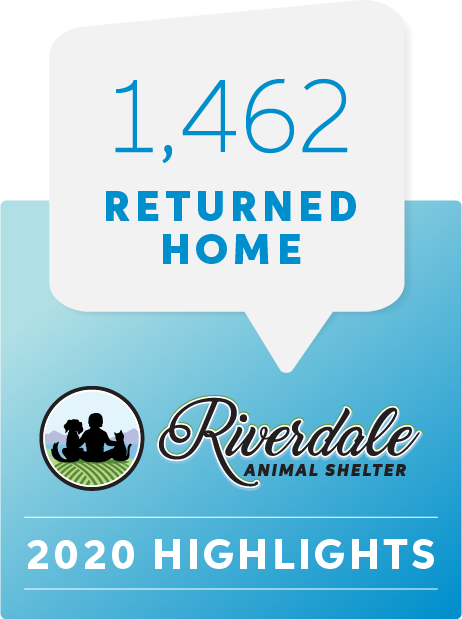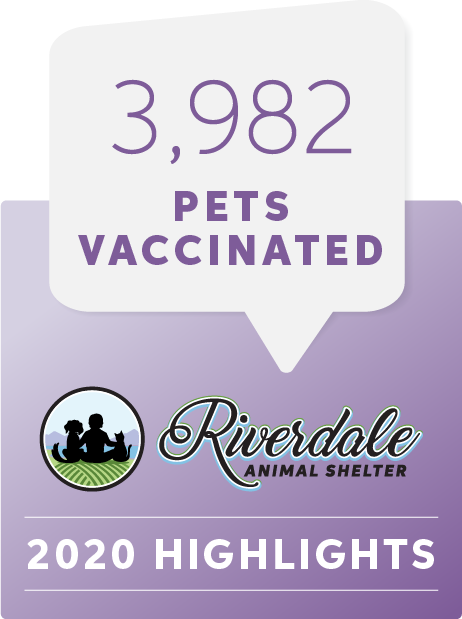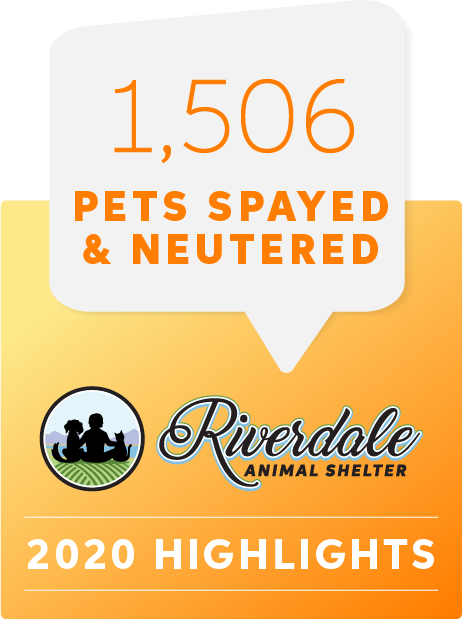 More Successes
145 Blue Collar Kitties found their forever home – a 38% increase from 2019.
236 animals were adopted during the month-long Clear the Shelters event in partnership with NBC Universal/Telemundo – more than double the number from last year.
250 dedicated volunteers safely gave nearly 15,000 hours to assist us in providing quality care for our animals during the pandemic.
300 masks were made and donated to shelter staff by volunteers during the initial mask shortage
217 animals were transferred to rescue partners
45+ new foster homes were added to our growing list of dedicated foster families during the pandemic
111 pets were placed with foster families at the start of the pandemic (March – May)
516 total animals were fostered in 2020, a slight increase from 2019
Our Live Release Rate increased to 92.1% from 89.9%
Our website reached over 1 million unique pageviews for the first time ever – an increase of 120,000 unique pageviews in 2019.
We gained 1,500 new Facebook followers in 2020, increasing our audience size and reach.
Serving Our Community
28 companion animals were temporarily housed for 17 families in need through our Families in Transition (F.I.T) program. The average stay was 34 days in care.
24 displaced companion animals were sheltered at RAS as their families fled their homes due to the Colorado wildfires of 2020
1,951 animals were microchipped, improving their chances of returning home if they're ever lost
More Data & Statistics
Riverdale Animal Shelter is an open-admissions shelter and follows the socially conscious sheltering philosophy principles. This means we take in animals regardless of age, breed, health, and/or temperament, and place all healthy and behaviorally-sound animals. We do not euthanize for time or space, and there is no set time limit for how long a pet can remain in our care while awaiting its forever home.
We proudly report data on a monthly basis to Shelter Animals Count, a national database of sheltered dog and cat statistics by county to help provide facts and data-driven solutions to save animal lives. 
Riverdale Animal Shelter partners with more than 40 rescue organizations, and numerous animal shelters along the Front Range to place animals with a variety of differing medical and behavior support needs. Together, we are making a difference.