Measures of Success 2021
2021 was another great year at Riverdale Animal Shelter (RAS)! We settled into our brand-new home and continued to provide contactless services curbside until spring, when we were finally able to welcome our patrons indoors. In the summer, we hosted a belated opening and ribbon-cutting ceremony featuring animal lovers and advocates. First Gentleman Marlon Reis was our keynote speaker. In the fall, we marked our one-year anniversary at Riverdale by hosting a fun outdoor event to thank our many dedicated volunteers for all their help during the pandemic. In winter, we closed the year by participating in the Brighton Festival of Lights holiday parade, which included many of our shelter volunteers, staff members, and, of course, RAS ambassador dogs! It was all so exciting, and we're grateful to everyone who supported us throughout the past year.
In 2021, we returned to pre-pandemic numbers, and provided safe shelter and care for more than 6,500 animals. More notable wins to celebrate are listed below:
Notable Accomplishments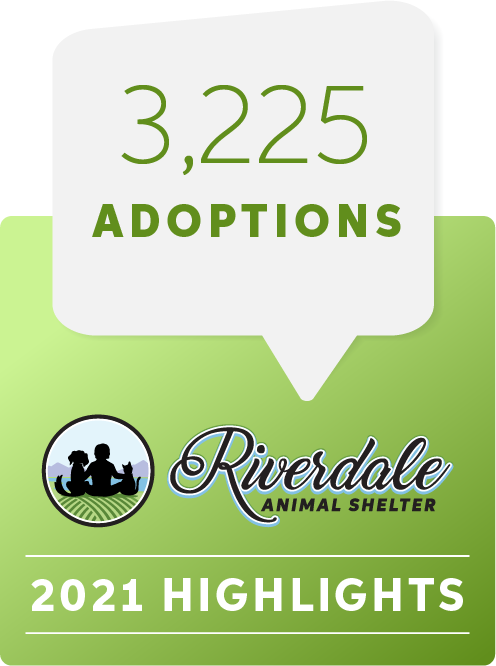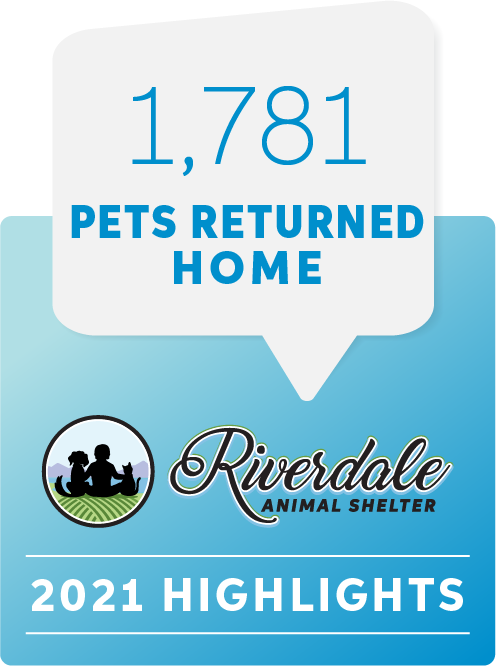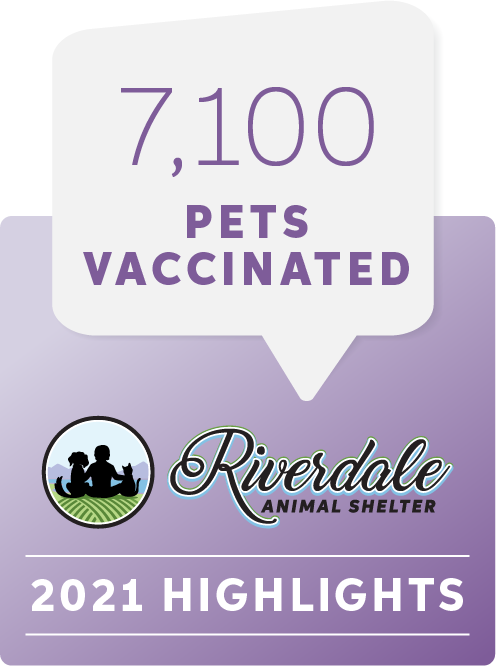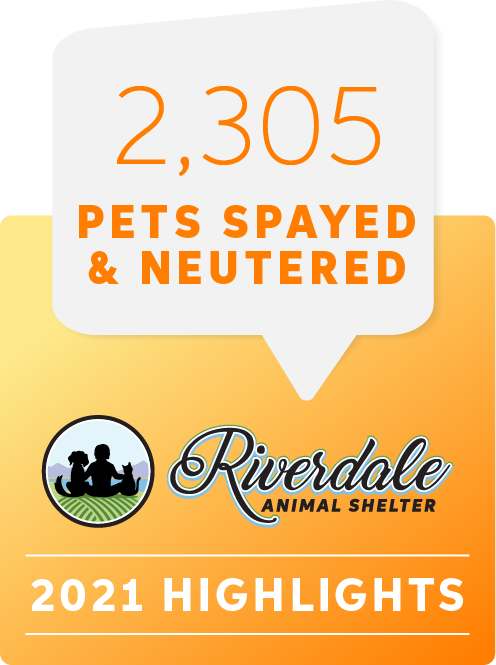 More Successes
758 animals were fostered in 2021.
102 animals were transferred to trusted rescue partners.
121 Blue Collar Kitties (barn cats) found their forever homes, and we expanded our shelter-neuter-return (SNR) efforts in unincorporated Adams County.
320 animals were adopted during the month-long Clear the Shelters event in partnership with NBC Universal/Telemundo.
1,105 animals found their forever home through adoption specials held throughout the year.
Volunteers gave 23,500 hours to assist us in providing quality care for shelter animals in need.
Our website reached over 1 million unique pageviews for the second consecutive year.
We launched our Instagram page as another social media channel to feature our adoptable pets and gained over 1,000 followers during our first year.
Serving Our Community
In 2021, we worked with the Adams County Community Safety & Well-Being Department, the Economic Security & Aging Services Division, as well as Anythink Library - Wright Farms to provide vaccinations, microchips, pet food, collars, and leashes to low-income families and their pets throughout our community.
Through our Families in Transition program, which assists families in crisis due to homelessness, illness, domestic violence, or natural disasters, we temporarily housed companion animals for 11 families in need in 2021.
More Data & Statistics
Riverdale Animal Shelter is an open-admissions shelter and follows the socially conscious sheltering principles. This means we take in animals regardless of age, breed, health, and/or temperament, and place all healthy and behaviorally-sound animals. Our live release rate remains above 90%, and we do not euthanize for time or space, nor is there a set time limit for how long a pet can remain in our care while awaiting its forever home. All team members are trained in fear-free animal handling techniques to kindly reduce fear, anxiety, and stress for all animals in our care.
We are a PACFA-licensed facility and proudly report data on a monthly basis to Shelter Animals Count, a national database of sheltered dog and cat statistics by county to help provide facts and data-driven solutions to save animal lives. 
Riverdale Animal Shelter partners with more than 40 rescue organizations and numerous animal shelters along the Front Range to place animals with a variety of medical and behavior support needs. Together, we are making a difference.